Christine Cahoon Thu 05 Jul 2018 updated: Thu 12 Jul 2018
Last month, Belfast hosted the Vespa World Days for 2018, which was held in the Titanic slipways in the Titanic Quarter of the city. More than 3000 Vespa riders from 37 countries from all over the world, some with their families and friends, descended on Belfast.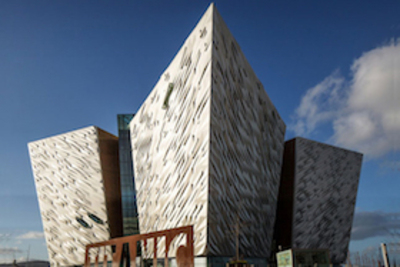 From viewing a few Club's Facebook pages, I had seen many took the long trip to Belfast across a number of countries and, for some, two ferries. Also, during the Gala evening, trophies were awarded—one to the person who had taken the longest journey to get to the event on their Vespa.
I was given a special guest access pass which meant I could go into the Vespa Village at any time and attend the Gala evening. I took full advantage of this pass "meeting and greeting" those who were there and, with permission, taking photos of the groups and vespas for the Vespa World Days Belfast web site that our company had developed. I must admit I knew nothing about Vespas and the Vespa family before Mark and Maggie Cooke asked us to help them develop a web site two years ago.
Everyone I met was delighted to meet someone local from Belfast and hear some facts, like: my grandfather was a shipwright and would have worked on the Titanic during its construction; that Cave Hill, which they could see from the Titanic Slipways is called locally as 'Napoleon's Nose' and if you follow the signs in that direction for 'Belfast Castle', you can visit its grounds and get a coffee or meal in the Castle itself.
I, unfortunately, have never mastered another language besides my own. So I'm very grateful nearly everyone I spoke to could speak some English. And if they didn't, a smile, my mobile in hand, my special guest wrist band, the view of a photo on a web site, I was accepted.
One 'meet and greet' was enlightening in how Belfast has been portrayed over the years. A group from England said they'd been apprehensive coming to Belfast. They asked: "Where's your police? We don't see any about". I said "You'll see them walking about with white shirts and green vests, or they're along the roads seeking to give out speeding tickets ;-)".
One couple said, "Everyone's been so friendly. When we've been looking at a map around Belfast, someone comes up and asks us what place we were looking for and gives us directions".
Although another couple told me that the only unsettling experience was when they were taking photos of "that wall that has grafiti over it", that some young lads said that we shouldn't take photos. "Oh, the Peace wall" I said, "Never mind them. They haven't realised that's a tourist attraction now". They brushed it aside though with smiles for me to take a photo.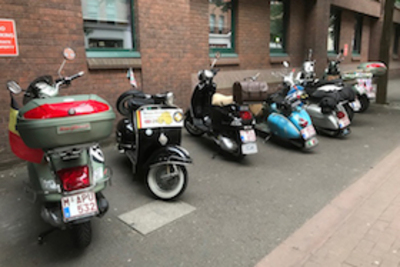 I heard reports from quite a few about people waving in the streets and countryside wherever they went and they felt truly welcomed by us. I'd a few special moments myself as I saw Vespas as they travelled passed. And when walking home one evening, seeing them outside every bar near where I live (which is about 4 miles from Titanic Quarter—great to see the Vespa family happy to explore). Another time when I was walking into town along Botanic Avenue, some guys from Italy (ones I'd recognised that I took a photo of at the Gala evening) were walking out of town and I shouted "Vespa!". I got four big grins looking back at me. Sweet!
Another group asked where they could go to get to the coast and how far it would be. They hadn't realised how close they were to the Antrim Coast and, after the trek they'd made to get here a leisurely run up towards the Antrim Coast was easy.
All this is probably sounding so tame... but 40 years ago when I was growing up, Belfast was a different place. Back then, if you had told me that Belfast would host such an event, I would have laughed at you. The ship yard, Harland and Wolff, which worked on the land, what we call now, the Titanic Quarter, was struggling like most ship yards. We were in the height of troubles, all shops closed at 5p.m., the city centre closed at 11p.m., fear seemed to hang around each corner all the time. Although most of us got on with our lives developing our careers and bringing up our children, we maybe felt unaffected by the troubles until news of another killing or bomb blast rocked our world.
But, after the Gala evening I walked from Titanic Quarter through the city centre to get the last bus home. What a different place it is now. Every bar is open and the sound of music from pubs like The Duke of York lingers in the air, there is laughter in the streets with the 15-seater bike rides with its fully-functional on-board bar cycling passed, the sound of different languages being spoken... spanish, german, french (and some I don't know what they are)... as I walked down the alley ways and streets. And, for Harland and Wolff that I mentioned earlier, thanks to the booming offshore wind and marine power industry, it now has a new lease of life.
On reflection, I feel that Belfast, for a city, has taken the longest journey to welcome all the Vespa family and friends. We mightn't be out of the woods yet, but we're so much further on than we were. Thank you.